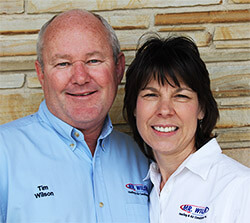 About Team Wilson
Mr. Wilson Heating & Air Conditioning is a family-owned business, founded in San Antonio and servicing the surrounding areas.
Mr. Wilson Heating & Air Conditioning was built on the principles of honesty and integrity, and we continue to grow and flourish because of our continued commitment to deliver dependable, high quality service at a fair price.
We have over 3,000 satisfied customer's and we are currently listed as an A+ "Accredited Business" with the Better Business Bureau.
We service both residential and commercial customers, and we are the only place to call for complete system change outs, new installations, trouble shooting tough repairs, and regularly scheduled maintenance.
Get peace of mind from experts your neighbors trust, and you will come to rely upon. Contact us today!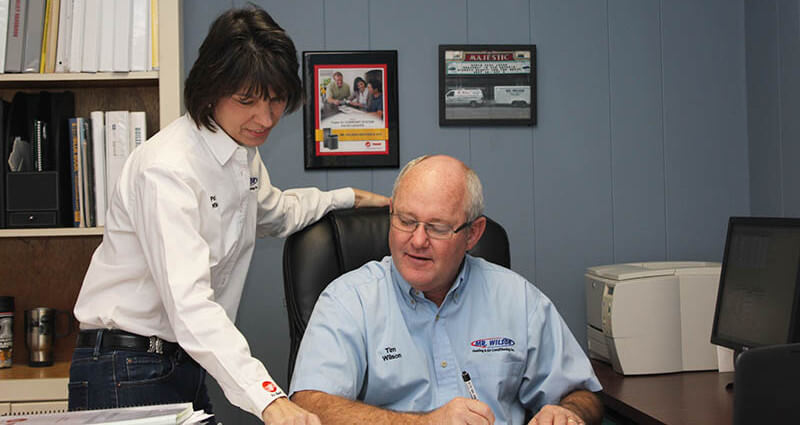 Building Mr. Wilson Heating & Air Conditioning With Family, Trust And Hard Work!
You've decided to go into business for yourself, what next?
Well, "…what next?" That was our thought 15 years ago when we had just swallowed a mortgage on our first house, and I (Patty Wilson) just had a baby when my husband (Tim Wilson) said to me "I want to start my own business". Wow! And off we went.
I contribute our success to my husband's work ethic, customer care, and willingness to learn from our peers. Our customers here in San Antonio trust him completely because he is smart and his work comes from his heart. His principals of an old fashioned handshake is what our company is based on – trust and being fair. We all know San Antonio is a big city with a little town sense of community. In San Antonio, people want to do business with people.
People are what are important. From the start, Tim worked alongside one of the smartest men in our business. As a puppy apprentice, Tim was taken under his wing and grew with the same work ethic his boss had. Hard work and treating people right comes back tenfold. Tim gained the knowledge of a great teacher who remained his mentor and friend till the end of time.
With Tim's technical HVAC skills and I with my management experience, we built our company from the ground up in San Antonio. With my daughter on my hip we learned to balance family and all that a new business brought our way. Together chasing our dream.
Today we may not have the biggest castle on the block but our HVAC shop is our home. We have the best service team and customers in San Antonio.
These 15 years have been nothing short of an adventure. We had the lean, mean years, rolled with the recession years, and have always been blessed with all the friends and fun this business has brought to us. Looking back, I would not have done it any different.