Providing San Antonio and Helotes with Everything They Need to Breathe Easier
The Causes of Indoor Air Pollution
The Numbers for IAQ Services Make Sense
The Benefits of Improving Your Indoor Air Quality
How You May Discover You Have an Air Quality Problem
Our San Antonio-Area IAQ Solutions
Call Mr. Wilson Air For Indoor Air Quality Services in San Antonio
Indoor Air Quality FAQs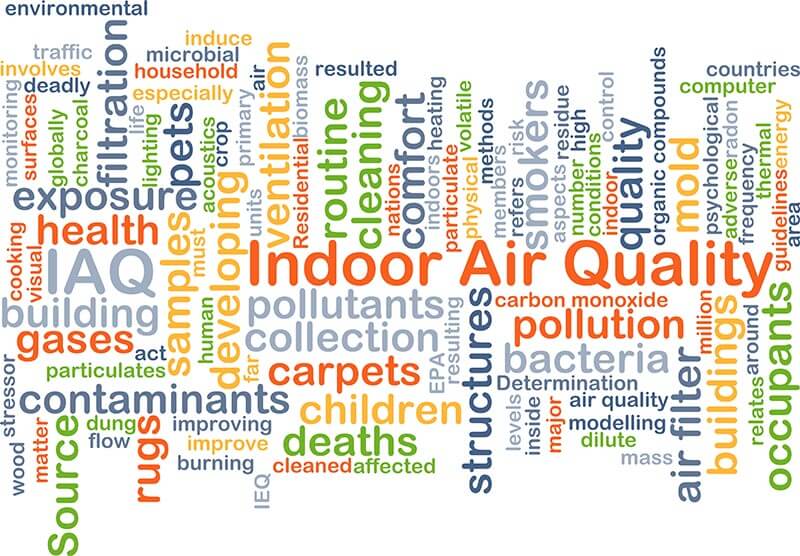 Benefits of Installing a Whole-Home Indoor Air Quality Solution.
Improving your home's indoor air quality (IAQ) is an important step toward achieving the best possible comfort inside your San Antonio home. IAQ systems are designed specifically to reduce contaminants and pollutants and to promote the health of your family members. Understanding how these systems work will help you to make the most practical choices for your home and your situation. There are several manufacturers who have products for residential homes. The REME HALO® system is an excellent example of an advanced air purification system that can make your San Antonio home a healthier place to be. Here are some points to keep in mind when deciding if a whole-home air purification system is right for you.
How The Air Purification Systems Works
The whole-home air purification system is designed for installation inside your ductwork close to the air handler. This system actively produces hydroperoxides, which are safe oxidizing chemicals that destroy pollutants and disinfect your indoor air. Hydroperoxides are similar in chemical structure to hydrogen peroxide, which is used in toothpastes and household cleaners. This ensures the safest way to clean and disinfect your indoor air.
These IAQ systems employ dual ionizers, which assist in removing airborne particulates like mold, dust, dander and pollen. The most recent model also generates zinc ions, which have been shown to kill up to 99 percent of viruses on surfaces inside your home. This can reduce the transmission of diseases while helping your home to smell fresh and clean.
As Fresh and Natural as a Rainstorm
Hydroperoxide chemical compounds are also responsible for the fresh, clean smell that comes after a thunderstorm. Ionized hydroperoxides are created when lightning, water and sunlight combine to clean the air and leave it smelling fresh. Air purification system performs the same important task to disinfect indoor air and to eliminate odors that could affect your comfort inside your home.
How It Works
When in operation, the IAQ system creates hydroperoxide plasma that is dispersed through the air handler of your HVAC system. These chemical compounds then enter your living space and create an electrostatic charge that causes particulates to clump together, which improves the function of your regular household air filter. The hydroperoxide plasma produced also goes to work to eliminate microbes that can affect your indoor air quality. This ensures the highest possible air quality inside your home.
Tested and Proven Effective
Many of the IAQ systems are used in tests conducted by the U.S. Environmental Protection Agency to combat anthrax contamination in ductwork and is highly effective in eliminating other biological pollutants and contaminants in household use. One of the IAQ systems we offer have been approved by the U.S. military to reduce mold in field hospitals and by the USDA and FDA for air purification in food processing plants. By releasing hydroperoxides directly into your indoor air, this system can seek out and destroy particles and microbes that could pose a threat to your family's health.
Installing Air Purification Systems
Working Mr. Wilson Heating and Air Conditioning is easy. We specialize in AC repair and installing replacement systems. We can install the IAQ system either during season maintenance or when we replace an older unit. Unlike air filtration solutions, the in-duct system does not restrict air flow. This method of air purificaiton can prevent unnecessary wear and tear on your HVAC system and will promote the greatest longevity for the heating and cooling equipment in your home.
Your AC repair technician can usually install the IAQ system in just one visit to your home. The unit is mounted inside the supply air plenum, which is a sheet metal box that serves as the central manifold for your ductwork. This allows your technician to install your new air purification system with minimal disruption and noise during the process. Once in place, the system will operate quietly to promote the most comfortable and healthiest indoor environment for you and your family.
This system does require occasional replacement of the cell that generates the hydroperoxide plasma. Your AC repair company can perform the replacement during regular spring or fall maintenance visits, which can make the process of enhancing your air quality much simpler now and for many years to come.
Benefits of Air Purification Systems
Some of the most important benefits of choosing the a whole-home air purifier include the following:
Because it is installed in your existing ductwork, it does not take up space inside your home. This makes it a great solution for homes with smaller utility rooms and limited storage space.
They is designed with an adjustable shroud, which allows some ducts to be excluded from the air cleaning process. If you have ductwork that leads to your garage or other less-used parts of your home, for instance, this shroud will allow your installation technician to direct the cleaning power to the areas you use most.
Lowering the concentration of particulates inside your home will often reduce the severity of respiratory issues like asthma, emphysema and allergies for vulnerable members of your family. This can make a significant difference in their state of health and the comfort they feel inside your home.
Whole-home air purifiers can produce cleaner air in every area served by your ductwork, which can significantly reduce the cost of improving air quality and health for your home.
The IAQ system uses very little energy to operate. This makes it a green-friendly way to manage air quality inside your home and to improve the health of every member of your family.
Inquiring about IAQ systems during your next regular HVAC maintenance visit or during HVAC replacement can help you determine if this advanced system is the right choice for you. Your AC repair specialist can provide you with the most accurate information on the installation process and the proven benefits of air purification for your San Antonio home. This will allow you to make the most practical and positive decisions for your budget and for the long-term health and well-being of your family.