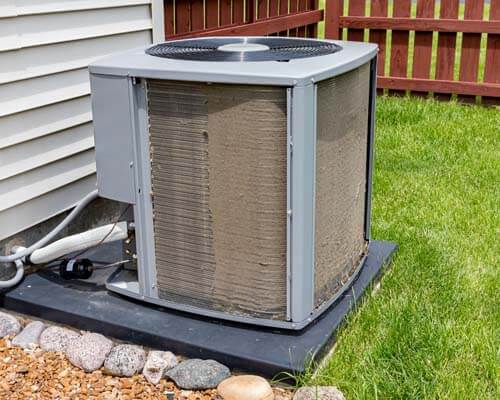 With inflation on the rise homeowners everywhere are looking for ways to save money and get the most bang for their buck. One way that they can avoid having to spend large amounts of money down the road is servicing and maintaining their air conditioners before the stress of summer is upon their machine.
It is important to not only routinely maintain your home's air conditioner because of the rise of inflation but to also avoid paying a hefty price down the road because of a problem with the machine. The last thing a homeowner wants is for their air conditioner to have a large-scale problem when prices are at an all-time high.
Early spring air conditioner maintenance should be a top priority in the next upcoming months as neglecting your system can lead to much larger issues. With an early spring maintenance appointment HVAC technicians will be able to spot and prevent those larger issues from potentially happening.
An early spring air conditioner maintenance appointment is ideal and beneficial to your machine. When investing so much money into your HVAC equipment it is extremely important to keep up with your machine in a cost efficient and effective way.
Keeping Your Air Conditioner in Shape
The best time for early spring air conditioner maintenance is now. Summer is right around the corner and by no time your home's air conditioner will constantly be turned on due to the Texas heat.
It is ideal to service and take care of your system when making the transition from heating to cooling. To get the best performance and longevity out of your machine, having a licensed technician come out and maintain your system is the best way to do so.
There are ten steps an AC technician will take to ensure that your system is performing at its best ability when coming out for your spring maintenance check.
Steps to Servicing Your Air Conditioner
When a service technician comes out from Mr. Wilson Heating & Air Conditioning you can expect them to check the following items on your system.
Clear debris from your outdoor unit
Inspect your outdoor unit
Replace your HVAC filter
Recommend/install a smart thermostat
Check static pressures for proper air distribution across the coil
Clean debris from your outdoor unit
Test the cooling function on your system
Recommend setting up a service plan and maintaining your system regularly
Inspect Your Outdoor Unit
Our technicians will check and ensure that your outdoor unit is level and on a stable surface that can support the machine. They will check the machine's condenser for any signs of damage that may have occurred over fall and winter.
Clean Debris from Your Outdoor Unit
Buildup of debris from fall and winter are bound to happen around your outdoor condenser and it is important to remove this buildup. Our technicians will make sure to clean up around your HVAC condenser and clean off any buildup that has occurred on the systems coils as well. This will keep the system running and cooling smoothly without the added stress that occurs from buildup.
Clean the Units Ducts
Before running your air conditioner it's important to make sure your ducts are cleaned and free of any debris. Our technicians will clean the machines ducts and will free them of any mold, dust, and other allergens that may have made their ways in during the colder months. This is ideal for homeowners and families that suffer from allergies as it reduces the amounts of pollen and buildup in the system.
Replace Your HVAC Filter
Your system's HVAC filter should be changed every 30 to 90 days depending on the type of filter. Our technicians will check the filter to determine if it needs to be replaced or not and will replace it if needed. Replacing the HVAC filter is critical for the system as a dirty filter can restrict airflow and can potentially result in mold growth.
Recommend/Install a Smart Thermostat
Our technicians will check to see what kind of thermostat you have in your home and may recommend a smart thermostat be installed. Smart thermostats can be programmable and reduce the energy costs in your home. Putting your thermostat on a schedule can reduce stress on your machine and extend the life of your system. If decided on, our technicians will go ahead and install a Smart thermostat per the homeowner's request.
Check Static Pressure of Your Home
To improve your home's overall air quality, our technician will check the static pressure. Static pressure maintenance is important because if our technician does not obtain a good reading, there may be several issues with the system. The coil may be restricted, the blower wheel may be dirty and stopped up, the filtration may be undersized, or factory dip switches may not be property set. Static pressure is the blood pressure of your home. It is very important for your system to run properly and efficiently.
Test the Cooling Function on Your Machine
Our technicians will check the cooling functions on your machine to make sure they are going to work and run properly for the hot summer months ahead. They will set your thermostat just a few degrees lower than the current indoor temperature of your home. They will then check that cooler air is coming out of the vents in your home. They will also check for any noises that are not normal while the unit is running and will check to see if your machine is functioning normally.
Recommend Setting Up a Service Plan and Maintaining Your System Regularly
Our technicians will also recommend setting up a service plan where your machine will be scheduled to be checked and serviced twice a year. As it is important to perform routine maintenance on your HVAC system to ensure that it is running properly.
Our Service Plans
If interested, we will go ahead and set you up with a service plan that is right for you and your budget. Our service plans are ideal for keeping up with your system and avoiding large scale issues occurring down the road.
Our service plans include:
Maintaining your system twice a year = peace of mind
Our friendly staff will remind you = no hassle to remember
Free dispatch fee on most plans
Earn Loyalty Replacement Rewards
Get a 15% advantage on repairs
Save up to 30% off accessories
Stand behind our "repair guarantee" (excludes freon)
If a service plan is something you would be interested in after reading this post you can give us a call at (210) 308-9866 from 8am to 5pm Monday through Friday and/or Saturday and Sunday from 9am to 6pm where we can further assist you in to selecting the service plan that is right for you. If you have any questions as to why purchasing a service plan is a good idea, the benefits of early spring air conditioning maintenance, or any other questions we will be more than happy to assist you.