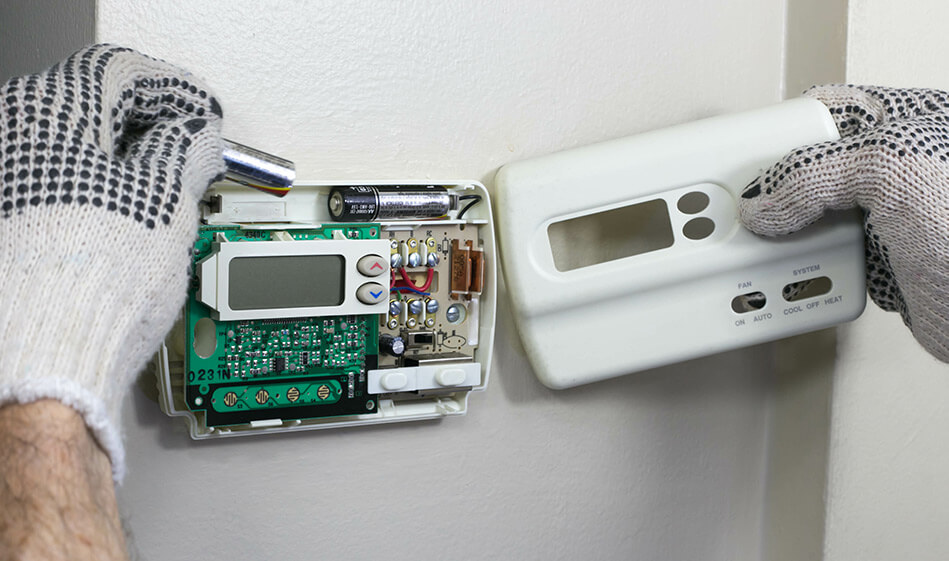 With summer coming to an end and fall and winter right around the corner as a homeowner you want to ensure your home's HVAC system is prepared for the upcoming cooler months. It is crucial to prepare your system for winter so that you don't have to deal with an inadequate heating system when you and your family need it the most. With a few tips and the help from us at Mr. Wilson Heating & Air Conditioning, we can help you make the switch from cooling to heating as easy as possible. Our Winter Heating Service can guarantee that your system will perform at its best ability without any interruptions.
Switching from Cooling to Heating
Seasonal winter service can prepare your system to handle temperature swings as it begins to run heating and cooling elements safely and efficiently. A scheduled service can be done thoroughly by one of our technicians and can then detect potential problems that may affect your system's performance. It is ideal to schedule a service call during the fall to ensure that your HVAC system can handle the switch from cooling to heating. The ideal day for this type of service would be a day where it is not too hot or too cold out and the system does not need to be run. The transition between seasons is the ideal time for a system replacement as it is best to check the system when there are no problems present than to wait for there to be a problem.
Regular maintenance to your system can help prevent issues that can commonly arise throughout the winter months. Checking your system before the winter months ensures it is efficiently operating before the upcoming months of weather change. Seasonal maintenance of your heating system can detect leaks and identify potential safety issues that may occur from lack of use during the summer.
Our AC Repair service can put your system into excellent condition when a problem occurs, and we offer maintenance contracts for periodic inspection. By detecting a performance issue and addressing it early on, you can preserve the integrity of your system and avoid costly repairs.
Taking Care of Your Equipment
With winter feeling like it's an eternity away, thinking of preparing your central air and heating system for those colder months may not even be something that you are thinking about. HVAC systems perform much better and run into fewer problems when they are serviced regularly. It is recommended to regularly service your system as it can extend the life of your equipment and keep it running effectively and efficiently. Benefits of Winter AC Service include having a system that produces improved indoor air quality and runs efficiently which will save energy and in return save you money. The ideal time to perform a service check and make any necessary repairs are the early days of fall or days that don't require you to use your system. During a service appointment, our technicians will give your HVAC systems a thorough inspection to ensure that your system is performing at its best ability. During your appointment your system will receive attention to the following areas:
Thermostat: We will check the settings on your thermostat that allow it to produce the cooling and heating and program them in a way that will suit your preferences during the hours that you are home and saves energy costs and money while away.
Electrical Connections: We will measure the current and voltage of your motors and perform a check on each electrical connection to ensure that your system is operating safely and that you can get the most out of your system.
Condensate Drain: We will check your condensation drain in your unit to ensure that there are no backups that can cause potential damage to your home.
Evaporator and Condenser Coils: We will check your coils to ensure that they are not dirty and hindering the functionality of your system.
Refrigerant: We will adjust your system's refrigerant and ensure that the level is at the precise point that allows it to work efficiently.
Blower Components: We will check the blower components to ensure that the airflow is clean and properly adjusted.
Controls: We will check all controls to make sure they operate and run correctly.
We understand the inconvenience that you experience when you bring a technician into your home, but we respect your property and privacy. Our policy requires us to arrive on time, work quietly, clean up after ourselves and make sure that your equipment runs perfectly. We take pride in providing top-notch service, repairs, or a replacement that can give the performance that you expect and deserve.
The Best Ways you Can Help Prepare Your System
There are a few things you can do yourself without having to call out a technician, aside from your typical service calls, to help prepare your system for winter.
Replace Air Filters: A clean air filter can improve the efficiency of your system and can help to decrease energy consumption by helping your system run noticeably better.
Seal Air Leaks: Ensure that all your windows and areas between your doors are sealed and leave no gaps for outside air to get into your home causing a high utility bill.
Check Your Outdoor Components: Clear debris or other items away from your outdoor system to prevent any damage that can happen to your system and potentially hinder its performance.
Get a Tune-Up Service: Schedule a tune-up service appointment at Mr. Wilson Heating & Air Conditioning to make sure that everything is running and working properly.
Consider a System Upgrade: Having an up-to-date HVAC system can ensure that all components of the system are working properly together. If your system is over 10 years old it may be time to upgrade to a new one.
Schedule Winter Heating System Maintenance
Although we've described some valuable things you can do yourself to prepare your HVAC system, some things should be left to the professionals. If you would like to learn more information about our services, you should contact Team Wilson, and our experts can schedule an appointment, offer a free quote, perform an inspection and examine the air ducts. Call us today to ensure that your system will be prepared for winter!